今年のスマートイルミネーションアワードは、企画性と芸術性、技術性の3つを軸に、
審査員による投票と来場者からの投票で各賞を決定しました。
「今年は完成度が高く、選定が難しかった」と審査員がおっしゃるほど、
レベルの高い素晴らしい内容となりました。
11月4日の表彰式のもようと併せ、表彰者のご紹介をいたします。
-最優秀賞-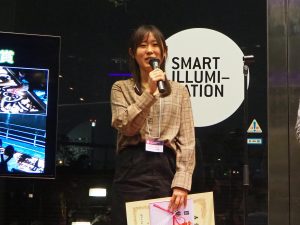 『Sand Light』石井結実さん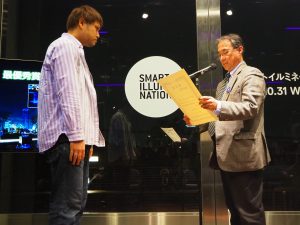 『つつまれ、つたわる』武内満さん
今年はイレギュラーで、技術面に評価が高かったお二方が最優秀賞受賞となりました。
お二人は賞金と賞状を授与され、来年はアーティストとして招聘される予定です。
-審査員特別賞-
『生穂(きほ)』JIUチームAの皆様 (選者/岡田勉)
『THE GARDEN OF LIGHT|光の庭』IVAAIU CITY PLANNINGさん (選者/太刀川英輔)
『ことばを光に』藤村憲之さん (選者/小泉雅生)
『skate scanner』AIKさん (選者/信時正人)
『光景』TAPSさん (選者/清水克彦)
審査員特別賞は、奨励賞を急きょ廃し、5名の審査員一人一人が選者となった5作品が選ばれました。
-オーディエンス賞-
『HEY POI』新川裕亮さん
新川さんの作品は、来場者の中で最も投票が多かった作品です。
受賞された皆様、おめでとうございました。
また受賞はされなかったものの、ご応募をいただきました全ての皆様に感謝申し上げます。
回を重ねるごとにレベルアップしている当アワード。
来年も多くの素晴らしい作り手と作品に出会えることを心よりお楽しみにしております。
Result Report of SMART ILLUMINATION AWARD
 
This year, each prize of SMART ILLUMINATION AWARD was selected by judges and visitors vote on the basis of the ability to make plans, arts, and technologies.
The judges were convinced of the high-level content, saying 'It was so hard to select because the perfection was higher this year.'
The awards ceremony on November 4 and the prize winners are followings,
-GRAND PRIZE-
『Sand Light』 Yumi Ishii
『surrounded and reaching』 Mitsuru Takeuchi
Irregularly, the two people won GRAND PRIZE this year, who were highly-praised in the techniques.
They received the prize money and the certificate, and we are going to invite them as artists next year.
-Judges Special Prize-
『KIHO』 JIU Media-Design Team A (selected by Tsutomu Okada)
『THE GARDEN OF LIGHT|光の庭』 IVAAIU CITY PLANNING (selected by Eisuke Tachikawa)
『make your words to lights』 Noriyuki Fujimura (selected by Masao Koizumi)
『skate scanner』 AIK (selected by Masahito Nobutoki)
『light scape』 TAPS (selected by Katsuhiko Shimizu)
Encouragement Prize was suddenly canceled, and these 5 works were selected by each 5 judge as Judges Special Prize.

-AUDIENCE PRIZE-
『HEY POI』 Hiroaki Shinaki
His work achieved the most votes in the visitors.
Congratulations on your awards.
We also appreciate all participants who did not win.
The level of this award has been improving every year.
We are looking forward to seeing lots of fantastic creators and works next year again.