【 REPORT – 1 】Presentation by Ignatius Hermawan Tanzil
TYPE: TALK
CATEGORY: Smart Illumination Summit
Smart Illumination Summit 2019 invited guest speakers from creative cities around the world to search for the next steps in the Smart Illumination project.
The summit's first presentation from a participating city was by Ignatius Hermawan Tanzil, a graphic designer and director of the art space Dia.Lo.Gue in Jakarta. As the Indonesian art scene becomes increasingly prominent, Tanzil introduced the circumstances in Jakarta as well as his own activities.

日本語はこちら


■Theme
"How can art interact with cities -Strategy of a creative city in the age of the SGDs"

■Program
【Part1|Presentation by participating cities】
Speaker:
Ignatius Hermawan Tanzil (Founder and Creative Director LeBoye design and Dia.Lo.Gue artspace/Jakarta City, Indonesia)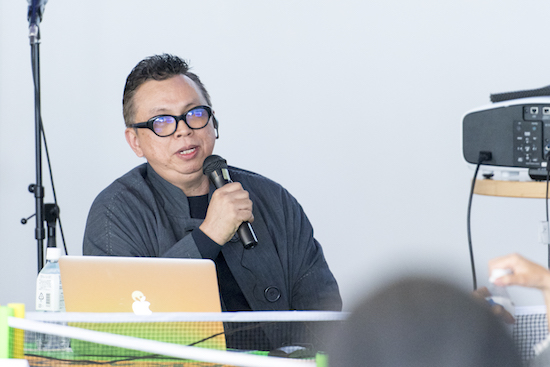 Today I would like to share with you about my practice as a graphic designer and the art base in Jakarta I run, a place that brings together various communities in the city.

Indonesia is actually the fourth most populous country in the world, with more than 13,000 islands and over 260 million people. The Indonesian archipelago has 300 ethnic groups and hundreds of languages. A major trading destination for centuries, it is a cultural melting pot with Indian, Arab, Chinese, and European elements. These give the country an incredibly rich diversity and heritage.

For us, the art scene in Jakarta didn't feel as strong as Bandung or Yogyakarta. Jakarta is like Tokyo; it's a very busy city and doesn't have so much public space. What we do have are developers who are building malls. We have about 170 shopping malls in Jakarta, amounting to some four million square meters. For entertainment, most of people just go to a shopping mall. There were already galleries but these were exclusive places only attended by collectors and certain types of people. This is not a good situation for Jakarta, so we felt an alternative space was necessary.

In 2010, we designed a space that everyone can be a part of. It aspires to be a place where exhibitions and activities related to art, design, and culture are held, a casual space where warm conversations can happen between ordinary people and artists or designers. Our approach is reflected in the name of the space. In English, it is pronounced "dialogue" but in Betawi, it's "dia-lu-gwe"—dia meaning "he" or "she," lu meaning "you," and gwe meaning "I." The logo can also be interpreted as individuals with many different characters, ages, and personalities.

Dia.Lo.Gue is a fun, dynamic, and informal place for many kinds of people to talk. As an art space with a strong public character, we deal with art and design across different types, trying to raise awareness of art and design in society alongside encouraging new creativity. Over the past nine years, we have organized over 360 exhibitions and events. We introduce design from various regions, international and local, including Gifu and Nara prefectures in Japan, and brands like Eames. Along with product design, architecture, and graphic design exhibitions, we host launch events for books and music as well as film awards. We even once hosted a charity event about orangutans.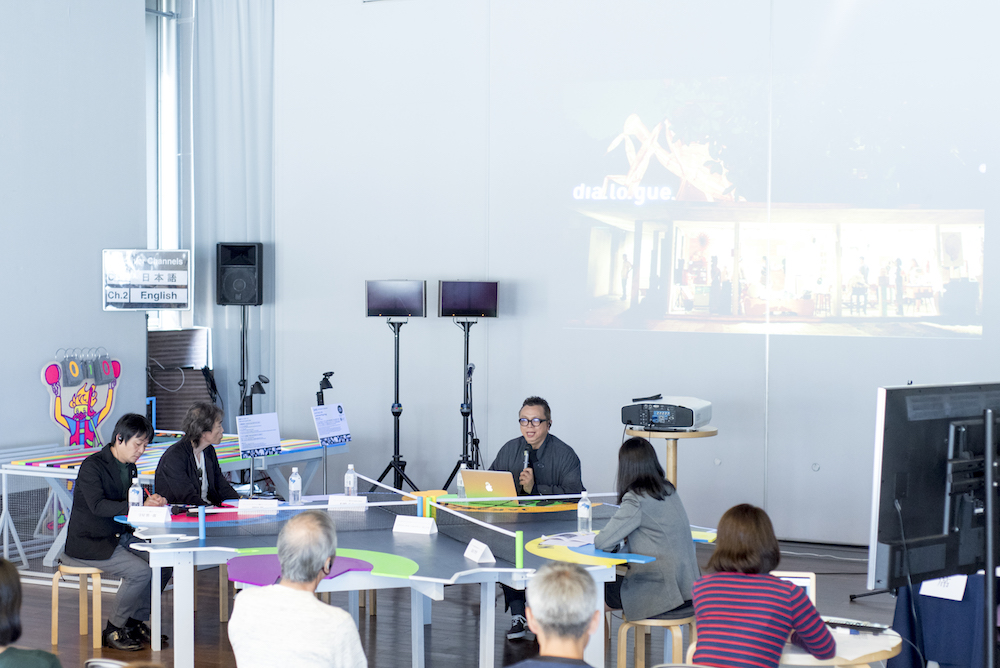 The art market and exhibition event sMart dialogue is held by Dia.Lo.Gue twice a year. More than just a bazaar or sales event, sMart dialogue aims to integrate art and design into everyday life by serving as a channel for a variety of innovative and interesting products at affordable prices, and for fostering exchange between artists and designers with members of the public. It has art pieces and prints, fun collectible items, home accessory products, furniture, and even fashion. It also features performances, demonstrations, and discussions. In the past, we have had life drawing, life sculpture, and book-binding events. Apart from the art market, there is an exhibition featuring the work of young contemporary artists and designers. The exhibits are varied in terms of media, ranging from sculpture to installation, video art, and more.

Held once every three years, Dia.Lo.Gue Playground is an art project for children and adults to explore art. I think it is very important for an art space to create events for children. Dia.Lo.Gue Playground aims to facilitate interaction with children by letting families make things together. Mella and Nindityo are a married couple and both famous artists in Indonesia. What they did for Dia.Lo.Gue Playground was a workshop using string to join up pieces of wood. I did not understand the concept of this at first. But with just wood and string, the children could experience using real tools like playing with toys, only here they were creating pieces of art however they wanted. Another example is a workshop where children and grown-ups make papaya jelly.

Seek A Seek is triennial graphic design festival. We have so far presented a curated exhibition of works by more than 70 Indonesian graphic designers. The government in Indonesia is not really making efforts to support graphic design, even though in the age of the digital revolution, graphic design can be found all around us. But the design that is part of our everyday lives is often forgotten after it is consumed. This event aims to make people stop and learn the value of that design. It also showcases food, fashion, stationary, and all kinds of creative products as well as live music performances, workshops, and talks. Everything is done by Indonesian graphic designers. On the opening day, we had 3,500 people! Over the 18 days, there were around 15,000 visitors.

Reka Rupa Rasa is an illustration festival that we plan to hold once every two years. For the inaugural edition, we invited illustrators not only from Indonesia but also South Korea, Thailand, and Japan.

I would like to share something that Paula Scher, a famous graphic designer from New York, said: "Be culturally literate, because if you don't have any understanding of the world you live in and the culture you live in, you're not going to express anything to anybody else." If you want to create something, you must first have an understanding of your own culture.

Dia.Lo.Gue Culture is a program of exhibitions aiming to raise awareness among young people of their own history and identity. "Nama ku Pram" (My Name is Pram) was one of the special exhibitions held by the program, showcasing the Indonesian writer Pramoedya Ananta Toer. He was long jailed for political crimes and nominated for the Nobel Prize in Literature many times. The exhibition introduced his extensive collection of writings that included private journals, letters, and essays. The exhibition also featured talks and discussions that were fully supported by the writer's family. People were very moved by the exhibition and some came back to see it more than once.

Exi(s)t is an annual program. It was initiated by FX Harsono, a prominent Indonesian artist, and myself. In every cycle, we do interviews and choose up to ten participating artists, all under 30 years old and living in Jakarta, from the 120 or 150 people who apply. The exi(s)t program is not about creating exhibitions: rather, we emphasize the process of creating art. That is why this program is heavy on workshops, lectures, and brainstorming sessions with the artists, curator, and mentors, and with an exhibition at the end of the program.

FX Harsono's concern was about the art scene in Jakarta, which is always on the periphery of discussions about Indonesian art. Given the size of the city and its dominant position in the country, this is far from ideal. The city's higher economic demands, compared to other cities in Indonesia, is forcing young artists in Jakarta to negotiate between their art practices and commercial work. This situation makes it harder for young artist to break out in Jakarta. Exi(s)t is a program that invites young artists to "exit" their current path and "exist" in the Indonesian art world. I was teaching at a local university and would often see graphic design students with potential for making conceptual art.

In five years, 44 artists and five curators have participated in the program. For the sixth edition, we held it at a bigger and more prestigious venue, the National Gallery, showing work by 14 selected artists who have participated in the previous five cycles. Most of them are continuing to do regular jobs while making art when they can. Some of them, though, got a kickstart from the program and have gone on to become full-time artists, participating in exhibitions, doing artist residencies, and working on commissions locally and internationally. Far from being pieces that were easy to sell or become part of collections, the exhibits critically reflected the participating artists' ideas about their own circumstances. There were also seemingly spontaneous performances. Since the artists have day jobs, they don't have the pressure to create work that must sell.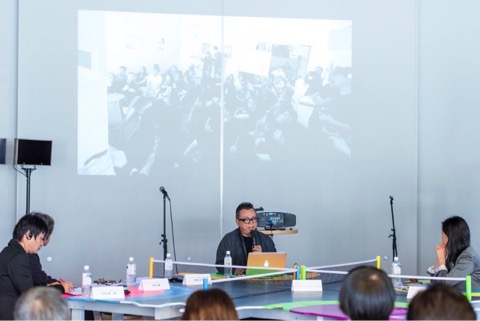 Bintaro Design District is a self-initiated project by three architect friends, who live and work in the Bintaro area, and myself as a graphic designer (and the only one not from Bintaro). Bintaro is a township built in 1979. Currently, the area comprises around 1,000 hectares and, for some reason, during its four-decade existence, it has attracted many designers, architects, and artists to live and work in the area. This "migration" to this area is organic. It is not planned or organized. Each of the artists or designers went there by him or herself. Some have already lived their whole lives there, while others moved in after the area grew bigger.

Bintaro Design District Festival is an event initiated to bridge Jakarta's creative communities with the public, especially within the creative incubator that is Bintaro. The entirety of this festival is self-initiated, with studios hosting their own events such as private exhibitions, installations, open studios, open houses, talks, and other types of event. It is our way, as designers, to celebrate and communicate our lasting intention to make a better living space.

The participants were 72 designers, including architects, interior designers, furniture designers, and graphic designers, at 47 venues in Bintaro and its surrounding area. In order to see all this work around Bintaro, you have to buy a booklet, which costs around 500 yen (about $4.50). And then at every destination, you can get a stamp. These booklets sold out in two hours. The people involved are mostly our students, who were unpaid volunteers. To commemorate the way everyone worked together as a team, we gave them certificates.

In Indonesia, we have a certain cultural phrase:gotong royong. It roughly translates as "efforts or actions done together, to achieve a common goal." I think this is what we are doing with Bintaro Design District and also what we have always been doing in terms of making events and initiatives. The bureaucracy in Indonesia remains very difficult to work with and so this do-it-ourselves approach makes much more sense than waiting for government support for our projects. And because our modern design culture has already grown up within this culture, our professional design climate is less about competition and more about collaboration and camaraderie. We actually feel very lucky to have been brought up as designers under these circumstances.
Text: Mana Saito
Photos: Ayami Kawashima
Translation:William Andrews



【FROFILE】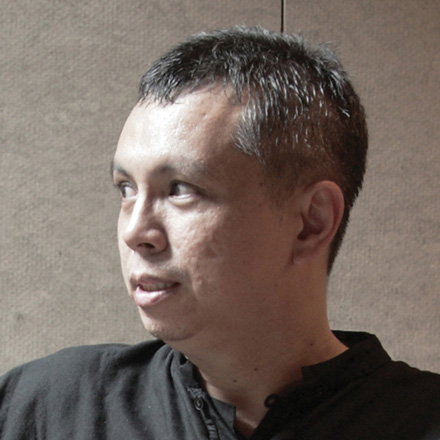 Ignatius Hermawan Tanzil

Founder and Creative Director LeBoye design and Dia.Lo.Gue artspace

Ignatius Hermawan Tanzil graduated from the California College of Arts & Crafts in 1983, and since then his career as a graphic designer has been a consistent journey for over three decades. He has won numerous national and international graphic design awards. In 2010 he grew his interest in art and other branches of design by creating DiaLoGue Artspace, a space that allows him to make art & design initiatives. His current work is to co-curate the Indonesia's pavilion for London Design Biennale in 2016.